How The Academy Is Different
From The Others
The Hypnotherapy Academy of America focuses on in-depth instruction in the most effective hypnotherapy methods. This is why we are rapidly becoming the most sought after professional hypnotherapy certification program in the world.
Most other schools provide a very limited training. Students may receive only a few hypnosis induction methods and therapeutic techniques. For example, only suggestion therapy and guided imagery and a handful of pre-structured scripts to follow. If you have been searching the web you've probably run across many so-called "hypnosis schools" with impressive sounding names, that are only three to six days in length, or only on-line or only train by correspondence.
Since, there is no federal regulation of hypnotherapy, we are left to self-regulation and "buyer beware."
What Comprises A Comprehensive Training
Hypnotherapy methodology has two major categories—suggestion therapy and uncovering methods. ALL STYLES (i.e. Ericksonian, Alchemical, etc.) of hypnotherapy breakdown to be a form of one, or a combination of both.
Suggestion therapy is basically, saturating the mind with the right thinking to bring about behavior modification, i.e. stop smoking. Uncovering methods are for the discovering and healing of the subconscious "cause" of the problem. While this is a simplification, there are dozens and dozens of methods for accomplishing either category. And you simply won't be prepared to help people address all problems by attending a basic, brief and superficial training program that does NOT provide you with comprehensive instruction in both categories. (Any course less than 250 classroom hours of instruction just can't give you enough time to develop superior skills.)
Tim Simmerman's training program at the Hypnotherapy Academy of America, is considered an "advanced level course" from beginning to end. Yet, previous training in hypnotherapy or college credits is NOT required for attendance. Upon graduation you will be able to immediately start helping people solve problems, resolve conflicts and reach goals as one of most highly trained practitioner in the entire field of hypnotherapy.
The Academy's professional preparation program offers you up to 400 hours of training in what you need to know to succeed in hypnotherapy.
At the Academy you learn the most important specialty applications. For example, will receive instruction in smoking cessation, weight loss, ending anxiety and stress relief and habit control. While hypnotherapy is never intended to replace medical or psychiatric treatment, hypnotherapy has proven to be an important complimentary therapy. You will learn protocols for accelerated healing, strategies for reducing acute and chronic pain, surgery preparation, as well as hypnotherapy for dentistry and childbirth.
But that's not enough, once you have the tools of transformation, we will also provide you with effective marketing, promotion and practice building strategies. We want to put you on the track to quickly recuperating your tuition investment and creating a life-long pattern of increasing prosperity making a difference in the world.
By your completing the Fundamentals of Hypnotism, Hypnotist Training, Master Hypnotist Training and Hypnotherapist Training modules (that's 250 hours of training) and successfully passing the American Council of Hypnotist Examiners certification exam, you earn the professional title of "Hypnotherapist."
Certification as a "Clinical Hypnotherapist" requires at least 300 hours of training. By adding either the Natal Regression Therapy & Advanced Transforming Therapy or the Accelerated Healing & Pain Control modules to earn this professional designation. Over 90% of our students complete all these modules.
or more information please feel free to call the Academy's Admissions Coordinator, Susan Jacques, for more details. Toll free in the U.S. 877-983-1515, International calls 505-983-1515.
For more information about the World's most prestigious hypnotherapy certifying board see the American Council of Hypnotist Examiners web site.
The World's Most Advanced Teaching Methods
Because everyone learns differently, we utilize lecture, classroom discussions and feedback sessions, live demonstrations and multimedia educational systems. In the photo above, Heather Simmerman has just conducted a live demonstration of hypnotherapy methods while being filmed for post session analysis. Student's then have an opportunity to deeply study how to process what emerges during therapy while watching a play back. Films such as this one are carefully examined so each step is clearly understood and all questions can be answered without interrupting the flow of the session during live demonstration.

You Will Learn . . .
Analytical & Transpersonal Hypnotherapy
Pain Management
Gestalt Therapy
Dream Analysis
Processing Sensitizing Events
Stop Smoking Program
Weight Control Program
Stress & Anxiety Reduction
Surgery Preparation
Childbirth Preparation
Shamanistic Techniques
Guided Imagery
Mental Simulation
Working with Emotions
Neuro-Linguistic Programming Techniques
Emotional Clearing
Breath Work
Intuitive Guidance
Parts Therapy
Ericksonian Techniques
Transactional Analysis
Inner Child Healing
Suggestion Therapy
Past-Life Regression
Psychoneuro-physiology
Prenatal Regression Therapy
How to build a successful practice
How to conduct Group Seminars
Behavior modification
Ending addictions

Accelerated healing methods

And more...
Become a Certified Hypnotherapist
Help people - and Earn $45,000+ Annually!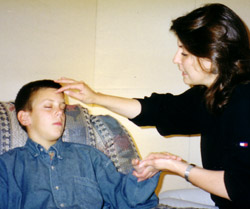 Learn techniques for children as well.
The Wall Street Journal recently predicted that hypnotherapy will be one of the top career choices for the new millennium. Now you can become part of this expanding field, helping others -- and yourself -- as you build a stable, successful professional practice.
The professional certification course at the Hypnotherapy Academy of America is one of the most comprehensive and extensive courses available. As part of our course, you will go through a carefully planned curriculum during which you will personally experience the techniques we teach.
As a result, the door to your subconscious will open, helping you to tap into the endless flow of mind power. You will be able to move to your next level while you learn how to do this for others.